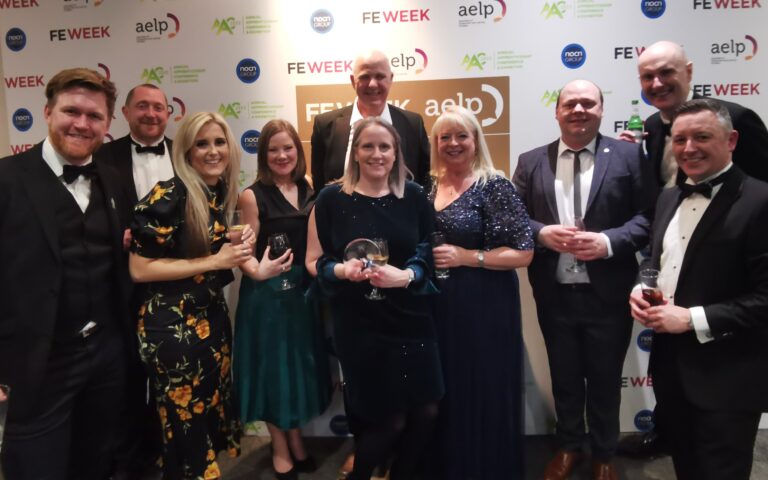 The FEWEEK Annual Apprenticeship Conference and accompanying Gala Dinner and Awards evening are widely regarded as the flagship events of the year within the apprenticeship sector. Taking place at the ICC in Birmingham in March each year over two days. 
For the first time in OAL's history, not only did we attend both events but we sponsored the award for Engineering and Manufacturing Training Provider of the year, a subject we pride ourselves on being one of the countries leading EPAOs for engineering and manufacturing standards, working in partnership with some of the countries largest food and drink manufacturers, including Bakkavor, Coca-Cola and Nestle.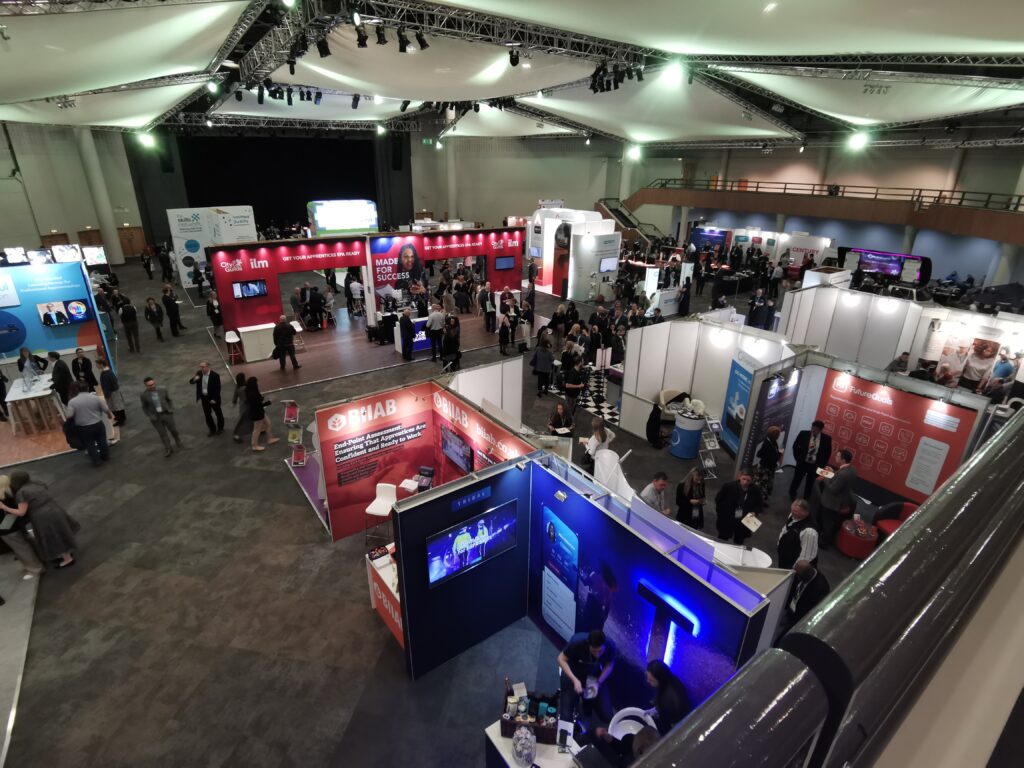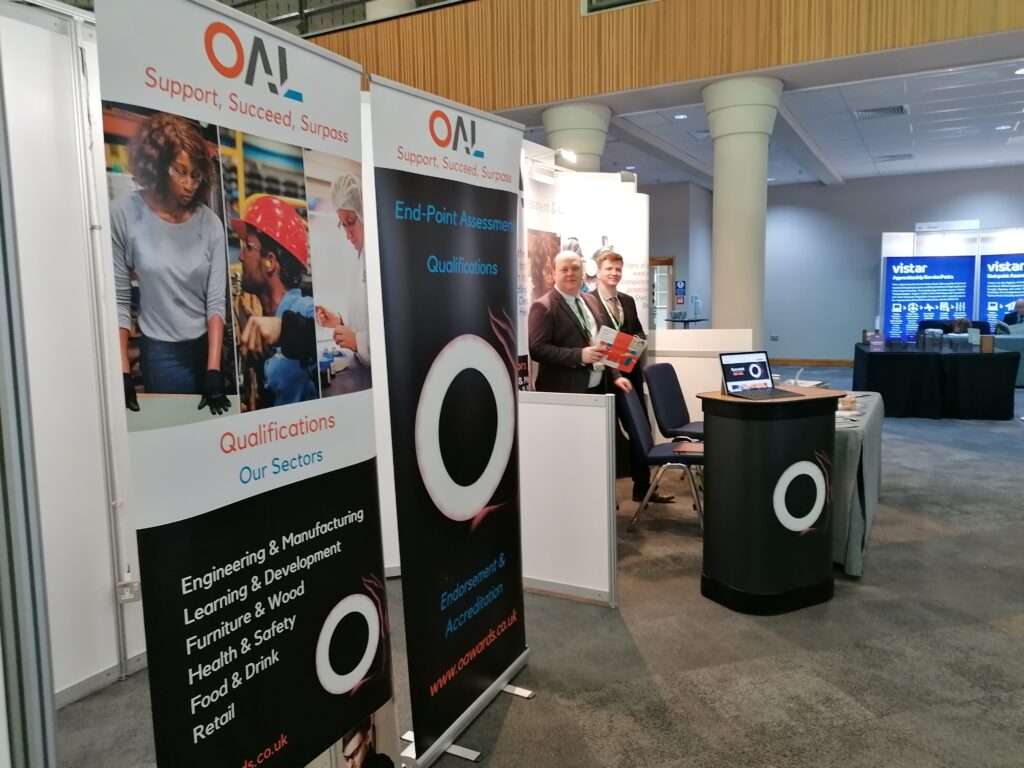 Head of End-Point Assessment Phil Clough and our Sales and Marketing Coordinator Zachary Wilde can be seen here occupying our exhibition stand. Equipped with our branded exhibition pop-up, roller banners, info packs, (detailing our Qualification and EPA offering) as well as branded pads and pens. It was such a fantastic opportunity to finally see Occupational Awards standing shoulder to shoulder with many of the leading EPAOs from across the country. 
As well as conference delegates visiting our stand to discuss EPA opportunities, each member of the OAL team visited stands occupied by employers and training providers at the conference, and learnt some valuable insights on the developments of the apprenticeships in the UK.
Over the two days the conference ran, as well as the exhibition spaces that were occupied by a wide variety of companies that play a role in the development and delivery of apprenticeships, delegates had the opportunity to attend workshops and lectures from some of the leading influencers and innovative thought leaders in the apprenticeship sector. 
The two days were hosted by BBC broadcaster and Journalist Amol Rajan, who interviewed such members of the apprenticeship community as Alex Burghart MP, Minister for Skills and Tim Campbell who can be seen on this years Apprentice, one of Lord Alan Sugar's key advisors. Two, amongst many that gave invaluable insight on the future of Apprenticeships and the role we all play in their development, and what we can do as individuals and organisations in ensuring their success. 
Within the exhibition hall, delegates could unwind and contemplate their learnings in comfortable discussion areas and highlight their attendance at photo booth spots. (The OAL teams can be seen here on the right!) Whether your drink of choice was a barista coffee or refreshing cocktail, you were thirsty for another by the time you had made your way around the room, entering competitions for gadgets and collecting goody bags, with enough pens on offer to complete a doctorate.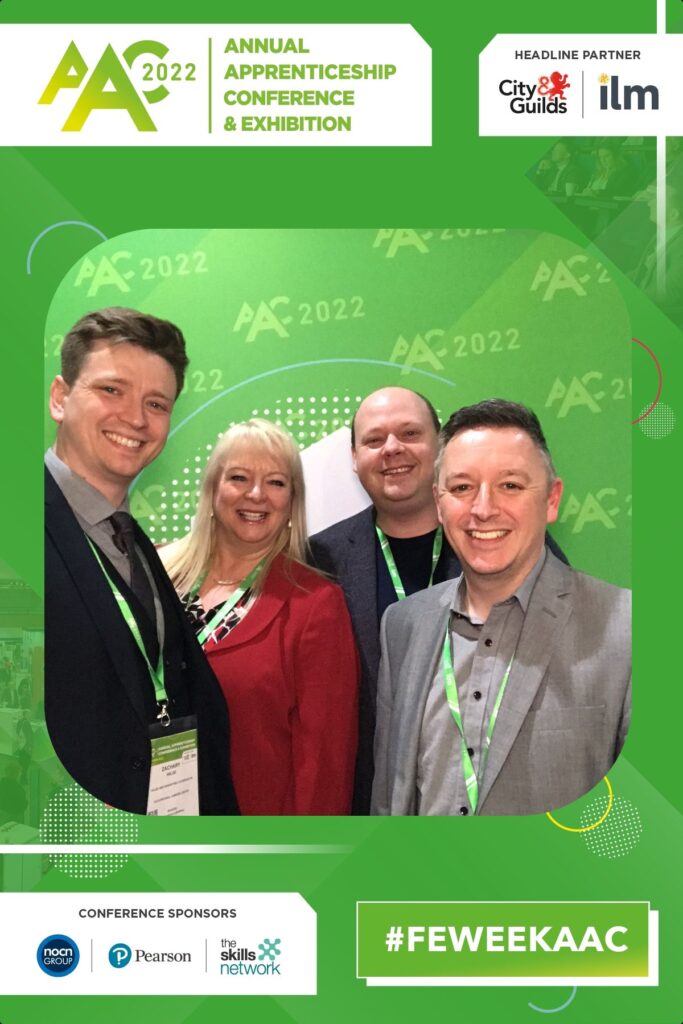 Tuesday evening is soon upon you and the conference is coming to a close. As banners are rolled up, delegates swap their office attire for dinner suits and fancy frocks. The crown jewel of the event being the Gala dinner as everyone celebrates the success of the apprenticeship sector and those who turned the most heads receive their just rewards. With categories ranging across all employment fields from Catering to Construction, recognising employers and training providers. OAL customer Realise bagged Apprenticeship Provider of the Year, and one of OAl's guests Travis Perkins received Outstanding Contribution to the Development of Apprenticeships by an Employer. Head of LEAP and Early Careers at Travis Perkins Any Rayner (seen with OAL CEO Jan Richardson-Wilde below) is someone we have worked closely with in delivering successful EPA with for many years. As the nations largest builders merchants the role they have played in being advocates for the importance of apprenticeships within business development is unparalleled. A topic we will be showcasing in more detail in the coming weeks following our interview with Andy Rayner that we announced during NAW2022.
We will be in attendance at more events throughout the year including the JPI Media West Yorkshire Apprenticeship Awards in June. Make sure to subscribe to our newsletter and follow us on Linkedin to stay up to date with everything going on at OAL.