OAL's Head of Customer Support, Lee Reddington, first encountered Whyy? Change whilst working for OAL's parent company the National Skills Academy for Food & Drink (NSAFD). Lee explains how the meeting came about.
"At the time I was looking to develop the NSAFD's provider network and was focussing on training providers with expertise in Lean, CI and operational excellence. I met with Ray (Ray Byrne, CEO of Whyy? Change) and was impressed by his knowledge of the industry and his passion for training and development."
Not long after that meeting Lee joined OAL and held further discussions with Ray and the team at Whyy? Change about partnering with OAL as the End Point Assessment Organisation for the Improvement Practitioner and Improvement Technician apprenticeship standards.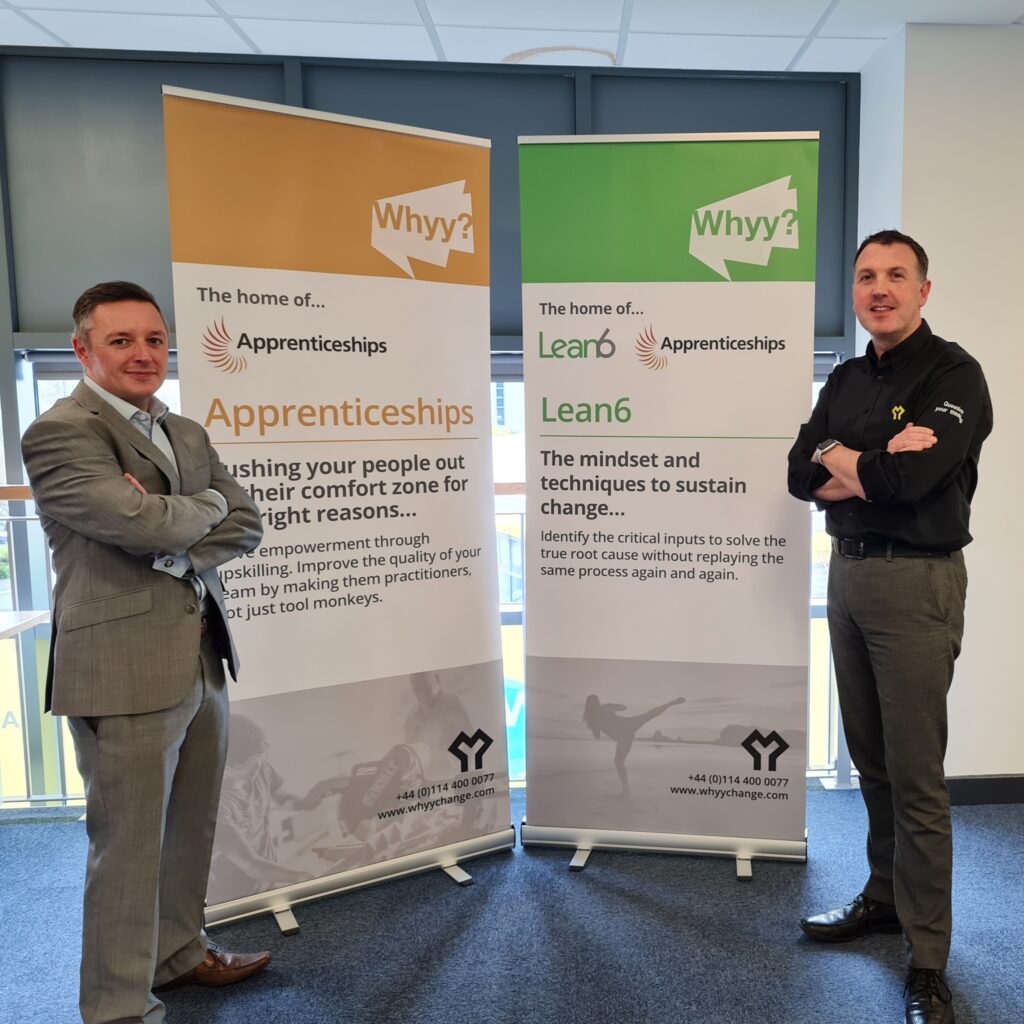 Lee recollects "I was already aware that Whyy? Change delivered these standards and as OAL was the first EPAO approved to carry out EPA for the Improvement Practitioner and Technician standards it made sense for us to work together." Subsequently, Whyy? Change and their customers appointed OAL as their EPAO.
Although OAL had already carried out EPA for the Improvement Technician standard, Whyy? Change's apprentices were the first to go through EPA for Improvement Practitioner. OAL and Whyy? Change worked closely in the run up to EPA as Ray and his team were keen to understand all aspects of EPA so that they could give their apprentices the best chance of success. Ray Byrne (CEO of Whyy? Change) "We were all feeling our way through the process and both parties respected the journey. Working with Lee was an engaging and action-based process. We had questions on questions, and it was great to work with Lee as a partner to achieve the right outcome. As part of this journey, Lee took the time to come to our Sheffield HQ and walk us through what the revised EPA process looked like".
Due to the excellent delivery from the team at Whyy? Change, along with the support provided by OAL, both apprentices successfully completed EPA. However, in the best traditions of continuous improvement this was not enough for either the team at Whyy? Change or OAL. Lee recalls the various meetings and calls with Ray and the team following their initial success. "Although pleased that his apprentices had passed their EPA, Ray was keen to understand how he could help better prepare his apprentices the next time around and was also keen to feedback on how OAL could improve on what we did in order to support them and their apprentices in the future. Ray had some invaluable insight into some of the support materials available from OAL and how they could be improved and working with Ray and other providers OAL subsequently further revised and developed out question banks and provided more supporting materials to all of our Improvement providers. Ray's input and insight was key to this development." 
Ray Byrne comments "It's all about the learner experience. The EPA experience might have been designed as a direct relationship between them and the employer, but our recommendation does influence their choice. We learnt through the journey and our energies must have added value, as our first cohort of Improvement Practitioner Apprentices received outstanding results beyond their own expectations."
As with everything we do, this is only the start of the next phase of learning and we found Lee and Phil very open to a full lessons learnt review. Personally intent without action is the biggest failure of business, and it was great to see our feedback immediately turned into improvements that have benefitted all apprentices that have passed through the EPA process.
I return to the word partnership. OAL continue to engage with us when we challenge or advise recommendations and this is the type of behavioural habits we look for. Partnerships only work if both parties can build rapport and delivery. Whyy? delivers. OAL delivers. For those employers who want apprentices to be challenged, tested and be recognised as a skilled operator, then this is the team for you.
Since those early days the partnership has continued and subsequently Whyy? Change have not had any pass grade at EPA in either Improvement Technician or Practitioner, they have all been distinctions! "Listening to feedback from our customers and being flexible in our approach to EPA is key to how we operate at OAL. We are always happy to work with our partners, whether they are providers or employers and ensure that the apprentice is at the heart of everything we do so that they have the best possible chance of success. The work we have done, in partnership with Whyy? Change and the results their apprentices have had are testament to that" Lee Reddington, Head of Customer Support, OAL. 
If you wish to read more about our successful partnership with Whyy?Change visit their site to hear their side of the story.